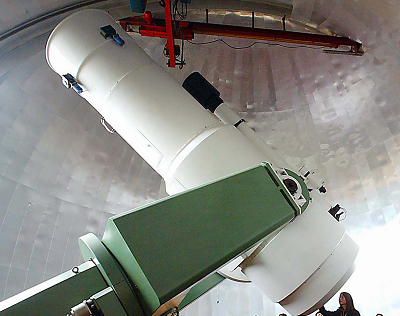 Xuyi Observation Station (XOS) is an astronomical observatory operated by PMO in Xuyi County, Jiangsu Province. The station is located on Paoma Mountain, a 180 m peak in the Tieshan Temple National Forest on the boundary of Jiangsu and Anhui Province, with longitude 118°28′E and latitude 32°44′N.
The station enjoys a very nice natural environment, overlooks a forest covering about 21 sq. km and a water area of about 9.5 sq. km of the Tianquan lake at the foot of the mountain. As a resulted of ancient geological movements, Paoma Mountain has a unique landform. The huge flat square atop the mountain surrounded by steep slopes provides a great open view. There is no inhabitant and industry around the area, the observatory has a sound night sky with minor light pollution. The limiting V and B magnitude of CCD photometry is 20.78 and 21.38, respectively, with a seeing better than 1", according to the measurements during site selection.
Focusing on the observation of small celestial bodies in solar system and artificial objects, XOS is the only observational base in China dedicated to celestial mechanical study. Presently, the station is equipped with a 105/120 cm near-earth-object-telescopic-finder and an alt-az mounted 65/73 cm space-debris-surveillance-telescope, together with some other smaller telescopes for various purposes.
The near-earth-object-telescopic-finder is the largest all-purpose Schmidt telescope in China, equipped with a4K X 4K drift scanning CCD detector, also the best of its kind in China. Thetelescope is mainly used to search near-earth asteroids that might be a threat to the Earth. It also conducts observational study of other celestial bodies in solar system. The space-debris-surveillance-telescope is used to monitor the space rubbishes to serve the secure of spaceflight.