The rough-and-tumble environment near the center of the massive Coma galaxy cluster is no match for a wayward spiral galaxy. New images from NASA's Hubble Space Telescope show a spiral galaxy being stripped of its gas as it plunges toward the cluster's center. A long, thin streamer of gas and dust stretches like taffy from the galaxy's core and on into space. Eventually, the galaxy, named D100, will lose all of its gas and become a dead relic, deprived of the material to create new stars and shining only by the feeble glow of old, red stars.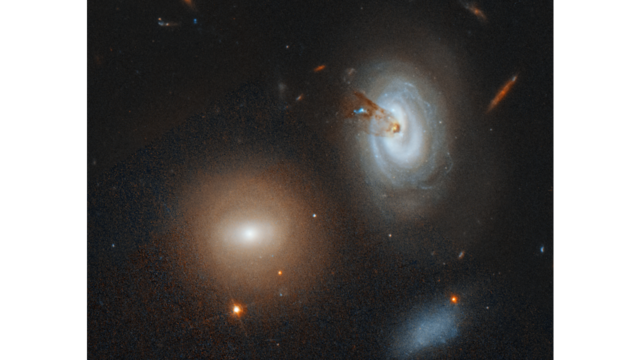 "This galaxy stands out as a particularly extreme example of processes common in massive clusters, where a galaxy goes from being a healthy spiral full of star formation to a 'red and dead galaxy,'" said William Cramer of Yale University in New Haven, Connecticut, leader of the team using the Hubble observations. "The spiral arms disappear, and the galaxy is left with no gas and only old stars. This phenomenon has been known about for several decades, but Hubble provides the best imagery of galaxies undergoing this process."
Called "ram pressure stripping," the process occurs when a galaxy, due to the pull of gravity, falls toward the dense center of a massive cluster of thousands of galaxies, which swarm around like a hive of bees. During its plunge, the galaxy plows through intergalactic material, like a boat moving through water. The material pushes gas and dust from the galaxy. Once the galaxy loses all of its hydrogen gas — fuel for starbirth — it meets an untimely death because it can no longer create new stars. The gas-stripping process in D100 began roughly 300 million years ago.
See:http://hubblesite.org/news_release/news/2019-05