Taking advantage of the capacities of the VLT Survey Telescope (VST) at ESO's Paranal Observatory in Chile, astronomers captured this very detailed new image of the Tarantula Nebula and its numerous neighbouring nebulae and star clusters. The Tarantula, which is also known as 30 Doradus, is the brightest and most energetic star-forming region in the Local Group of galaxies.
The Tarantula Nebula, at the top of this image, spans more than 1000 light-years and is located in the constellation of Dorado (The Dolphinfish) in the far southern sky. This stunning nebula is part of the Large Magellanic Cloud, a dwarf galaxy that measures about 14 000 light-years across. The Large Magellanic Cloud is one of the closest galaxies to the Milky Way.
At the core of the Tarantula Nebula lies a young, giant star cluster called NGC 2070, a starburst region whose dense core, R136, contains some of the most massive and luminous stars known. The bright glow of the Tarantula Nebula itself was first recorded by French astronomer Nicolas-Louis de Lacaille in 1751.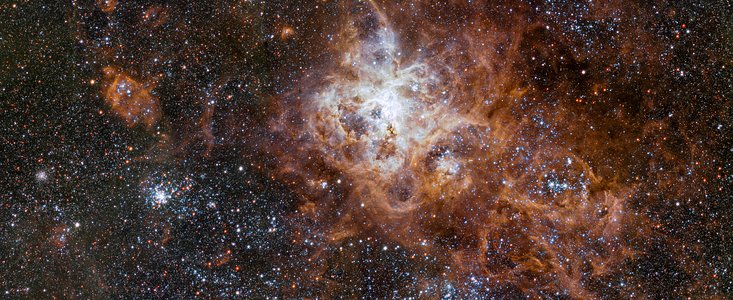 Fig.Glowing brightly about 160 000 light-years away, the Tarantula Nebula is the most spectacular feature of the Large Magellanic Cloud, a satellite galaxy to our Milky Way. The VLT Survey Telescope at ESO's Paranal Observatory in Chile has imaged this region and its rich surroundings in exquisite detail. It reveals a cosmic landscape of star clusters, glowing gas clouds and the scattered remains of supernova explosions. This is the sharpest image ever of this entire field.
See:http://www.eso.org/public/news/eso1816/