An international team of astronomers used ALMA to observe a distant galaxy called MACS1149-JD1. They detected a very faint glow emitted by ionised oxygen in the galaxy. As this infrared light travelled across space, the expansion of the Universe stretched it to wavelengths more than ten times longer by the time it reached Earth and was detected by ALMA. The team inferred that the signal was emitted 13.3 billion years ago (or 500 million years after the Big Bang), making it the most distant oxygen ever detected by any telescope [1]. The presence of oxygen is a clear sign that there must have been even earlier generations of stars in this galaxy.
"I was thrilled to see the signal of the distant oxygen in the ALMA data," says Takuya Hashimoto, the lead author of the new paper and a researcher at both Osaka Sangyo University and the National Astronomical Observatory of Japan. "This detection pushes back the frontiers of the observable Universe."
In addition to the glow from oxygen picked up by ALMA, a weaker signal of hydrogen emission was also detected by ESO's Very Large Telescope (VLT). The distance to the galaxy determined from this observation is consistent with the distance from the oxygen observation. This makes MACS1149-JD1 the most distant galaxy with a precise distance measurement and the most distant galaxy ever observed with ALMA or the VLT.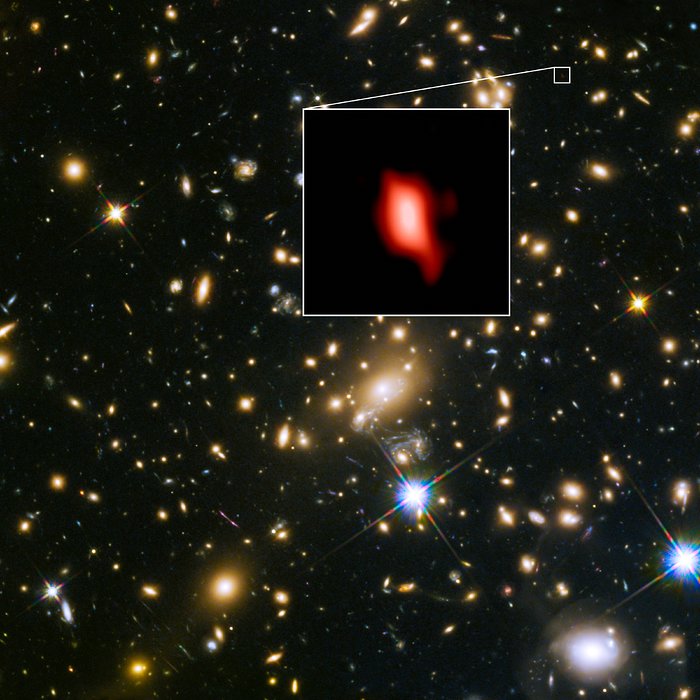 Fig.This image shows the galaxy cluster MACS J1149.5+2223 taken with the NASA/ESA Hubble Space Telescope; the inset image is the very distant galaxy MACS1149-JD1, seen as it was 13.3 billion years ago and observed with ALMA. Here, the oxygen distribution detected with ALMA is depicted in red.